Course: Projects in Authorship
Hotel Nightingale is a fictional haunted hotel brand inspired by Victorian and antique design. Through this project I wanted to explore different aspects of a brand through packaging, print, publication, and logo design. I wanted to challenge myself in creating a unified brand that told a story and think about how it could be further displayed across different mediums.
For my thesis project, I knew I wanted to explore packaging, print, and publication design while also including a story telling component. When conceptualizing this project, I decided to do a hotel brand with a bit of a twist, I wanted to create a haunted hotel. The deliverables I set out to create for this project were the hotel logo and wallpaper designs, a set of Alcohol packaging for the hotel bar, a set of soaps as hotel amenities, and a history and activity booklet that tells the story of the spirits and what rooms they haunt.
While designing this project, I invented stories on the ghosts in the hotel. I wanted the spirits to inform each spirits labels.  I wanted to make each label and spirit assigned to a specific room in the hotel and with my spirit labels I further enforced this idea by making it in the shape of a doorknob plate. I decided to take a three-dimensional and photographic approach to this project to add depth to the design. I included texture and created patterns to add detail and filigree elements to further illustrate a victorian and antique aesthetic.
Another one of my deliverables was to create hotel bathroom amenities, creating packaging for the hotel's soap bars. I decided for each bar that I wanted the main graphic to remain the same across each soap wrapping and create differentiation between each label through color and pattern. I wanted to create a door plate look to the label to expand further on idea of the haunted rooms to be shown throughout each deliverable. I used illustrator's 3D material feature to experiment and create the detailed depth in the metallic elements in the responsive logo and packaging designs.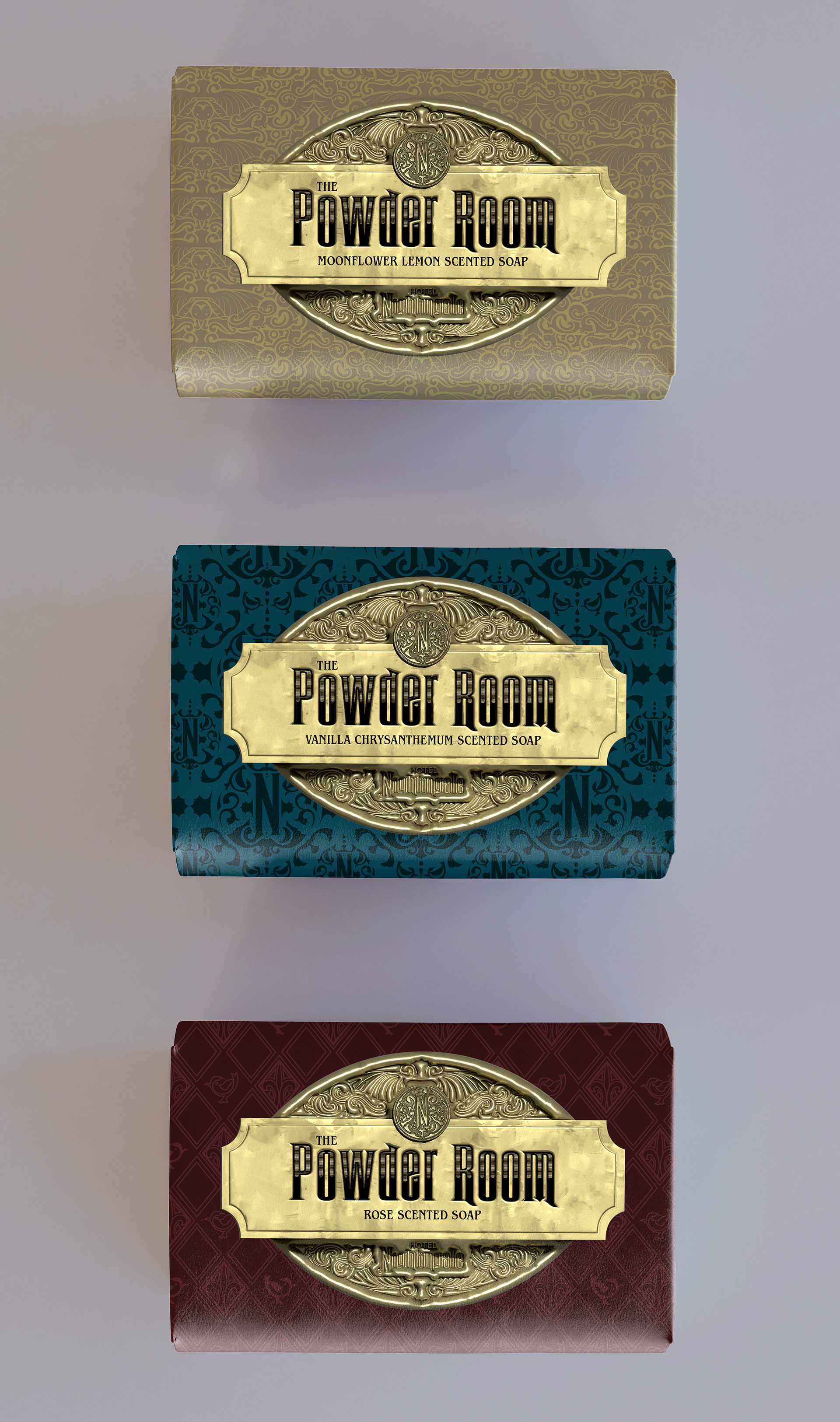 For my final deliverable, I created a hotel history and activity booklet. I wanted to display the spirits stories and their history in the hotel in a publication format. The images below show the spreads highlighting the legend of each ghostly guest. I wanted to treat the images differently than from the alcohol labels by adding color to the images. I knew early on that I also wanted the wallpaper patterns to be included with each haunted room having a different wallpaper design. For my composition, I cropped the images with frames and made them bleed off the paper to make it appear that the photograph was being displayed on a hotel room wall.
What I took away from this project was how to design across different mediums in a brand and explored more with photo-editing and 3D techniques to create a unified brand. I enjoyed creating my own stories for each ghosts and designing a style I haven't tried before.